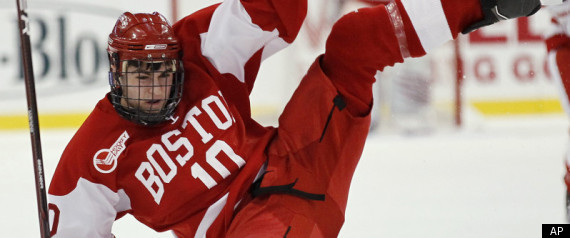 A hockey star from Boston University was arrested this past weekend on Massachusetts Sex Crimes Charges for allegedly sexually assaulting a female BU student.
Corey Trivino, who has already been drafted by the New York Islanders in the 2008 NHL Draft, was arraigned in the Brighton Division of the Boston Municipal Court on Monday on sexual assault charges including Assault with Intent to Commit Rape; 3 counts of Indecent Assault & Battery; and 2 counts of Breaking and Entering in the Nighttime.
According to the Boston University Police Department, Corey Trivino allegedly pushed his way into the room of a female BU student and groped her. BU police allege that Trivino was intoxicated at the time.