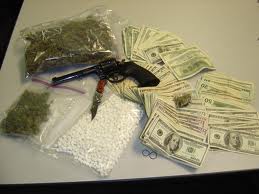 Aquiles Sanchez, Jr. and Leonel Grullon, both of Salem, were each indicted and arraigned in Salem District Court on Massachusetts Drug Laws Violations yesterday. Both men were charged with Drug Trafficking and Resisting Arrest.
According to the Essex County District Attorney's Office, Salem Police officers were conducting routing surveillance in the area of Salem near Boston Billiard's and Walgreens when they allegedly observed what they believed to be a drug transaction between Aquiles Sanchez Jr., and Leonel Grullon.
When Salem Police Officers approached the two men, Sanchez allegedly ran and got into a car and attempted to speed off, allegedly resulting in his striking two cars. As officers gave chase, they allegedly observed Sanchez discard a bag containing 90 oxycodone pills onto the street.
Sanchez eventually got out of the car near Route 114 and ran up River Street, where he was tackled by a man who held him until Salem Police Officers could respond and arrest him.
Grullon, in the meantime, allegedly struggled with police officers who attempted to arrest him and also threw a pool cue at them. As a result of Leonel Grullon's arrest, Salem Police officers allegedly recovered over $13,000.
In many cases involving violation of Massachusetts Drug Laws, what they police allegedly observed is critical in their evaluation of whether there was probable cause to arrest the persons. Often times, police will not see the actual drugs or money being exchanged, but will assert that, through their 'training and experience', they believed that a drug transaction had taken place.
Police Officers will justify the seizure and arrest of the person on a variety of factors, including whether they were known as drug users or distributors; furtive movements or evasive actions; nervousness; their presence inappropriate to the particular setting; and quick 'meets'.
At the end of the day, simply because drugs or money were ultimately found on the person is not necessarily fatal to the person challenging their arrest and hopefully beating their drug case. What the officers allegedly observed to justify the seizure and arrest should be scrutinized extremely carefully, and appropriate legal challenges, particularly litigating Motions to Suppress Evidence or Drugs, should always be considered.
Boston Criminal Lawyer Lefteris K. Travayiakis has extensive experience in defending against Massachusetts Drug Law Crimes, including Drug Trafficking, Unlawful Possession with Intent to Distribute Drugs, Unlawful Drug Possession, and Conspiracy to Violate Massachusetts Drug Laws, and is available 24/7 for consultation.
To schedule a Free Consultation, Click Here to Contact a Boston Drug Crimes Lawyer or call 617-325-9500.