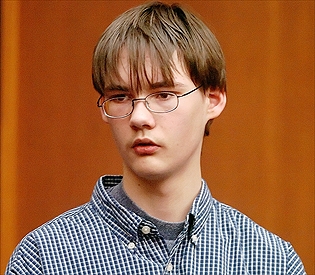 Prior to the start of the John Odgren Murder trial the other day, the Suffolk County Jurors were taken on a 'view' of the crime scene and were shown a video that Odgren allegedly watched the morning of the stabbing of James Alenson. The video shown to the jurors purportedly shows faceless cartoon characters stabbing and shooting each other.
Stephen Weiss, the student who was in the bathroom when John Odgren allegedly stabbed Alenson, testified that during a lecture before the stabbing, a student asked the teacher how to commit a perfect murder. Although the witness could not recall whether Odgren was the student who asked that question, Weiss clearly remembered that Odgren then stated that "if anyone is interest after class he'd hold a lecture on how to commit the perfect murder."
After the class, Weiss told the Suffolk County jurors he was in the bathroom stall when Odgren and Alenson came in. He said moment later, he heard Alenson plea for help, and than Odgren state "Oh my god, What did I just do…Whoever's in that stall, I need you to go get help." Exiting the stall, Weiss saw blood on the floor and a knife.
As I mentioned in my blog post of April 12, 2010, John Odgren is expected to claim an "Insanity Defense," or more properly termed in Massachusetts, a Defense of Lack of Criminal Responsibility. When a Defense of Lack of Criminal Responsibility is raised, the burden is not on the defendant to prove a lack of criminal responsibility. Rather, under Massachusetts law, the prosecutor bears the burden of proving, beyond a reasonable doubt, that the defendant committed the crime(s) with which he is charged, and also that the defendant is criminal responsible for his conduct.
Boston Criminal Lawyer Lefteris K. Travayiakis has experience in defending crimes where the Insanity Defense of Defense of Lack of Criminal Responsibility is at issue.
If you have been charged with a crime in Massachusetts and believe you have an Insanity Defense or any other Defense, Boston Defense Lawyer Lefteris K. Travayiakis is available 24/7. To schedule a Free Consultation, Contact Us Online or call 617-325-9500.