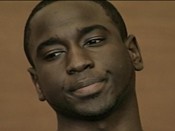 Robenson Daniel was arrested this morning and charged with Murder and several other Crimes of Violence in the stabbing death of Elhaji Malick Ndiaye, 18, of Waltham, as well as for stabbing another man outside a Regis College dormitory.
Daniel was arraigned this morning in Waltham District Court on charges including Murder, Assault & Battery with a Dangerous Weapon, and Armed Assault with Intent to Murder, and was held without bail.
According to the Waltham Police Department and Middlesex County District Attorney's Office, Daniel, Ndiaye and the other man were visiting friends at Regis College last week. At some point, an argument ensued between Daniel and the two men in the dormitory, but spilled out into the parking lot, which then led to a fight. In the parking lot, Daniel is alleged to have stabbed one man several times before being pulled off of him, and then attacked Ndiaye, who was standing nearby, and stabbed him in the chest. According to police and the prosecutor's office, video surveillance from Regis College helped identify Daniel as the alleged perpetrator.
As with most criminal cases, more specific details about what actually happened eventually gets disclosed to the public, but no other details were made available by the Waltham Police Department regarding this incident. There is no indication of any motive for the stabbing, what the substance of the argument between the parties were, if any of the persons involved had any prior criminal history, and/or whether either of the victims had any weapons.
At this time, Daniel will be brought back to Waltham District Court for what is termed a "Probable Cause Hearing" until the Middlesex County District Attorney's Office presents the case to a Grand Jury and obtains in indictment to Superior Court. In cases such as this, it is not uncommon two or several months to go by before evidence is presented and indictments are actually returned so that Daniel can eventually be formally arraigned in Middlesex County Superior Court.
If you have been charged with Murder, Assault & Battery or any other Crime of Violence, you should immediately consult with a Massachusetts Criminal Attorney and not discuss your case with anyone, especially the police, until you have done so.
To schedule a Free Consultation with Boston Criminal Lawyer Lefteris K. Travayiakis, Contact Us Online or call 617-325-9500.