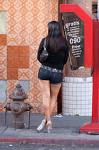 Luther M. Henderson, 35, of Brockton, Massachusetts, was arraigned earlier this month on Armed Robbery and Kidnapping Charges for allegedly meeting and then robbing a Craigslist escort at gunpoint.
According to the Brockton Police Department and Plymouth County District Attorney's Office, Henderson arranged to meet a female escort he found through a Craigslist ad. After meeting at a predetermined location, which ended up being a vacant house, Henderson then allegedly showed a gun, asked the woman to strip, and bound her using zip-cuffs. Henderson then allegedly got into the woman's car and stole her money, purse, cellphone and laptop.
Henderson was arraigned in Brockton District Court on charges of Armed Robbery, Kidnapping and Witness Intimidation.
Armed Robbery:
The crime of Armed Robbery in Massachusetts is punishable to state prison for any term of years up to life. In order to be convicted of the crime of Armed Robbery, the prosecutor would have to prove:
That the defendant was armed with a dangerous weapon;
He either applied actual force and violence to the body of the victim, or put the victim in fear by threatening words or gestures;
He took the money other property with the intent to steal it; and
The property was taken from the person or immediate control of the victim.
Kidnapping:
The crime of Kidnapping is the unlawful and forcible confinement of another person against his or her will. In Massachusetts, the crime of Kidnapping is punishable with commitment to state prison for any term of years up to 10 years in state prison. If the crime of Kidnapping is committed while armed with a firearm, however, the penalty is increase from any term of years up to life.
Boston Criminal Lawyer Lefteris K. Travayiakis is available 24/7 to discuss your criminal charges, including Armed Robbery, Kidnapping and other Crimes of Violence.
If you or a loved one has been charged with a crime and wish to schedule a Free Consultation, Click Here to Contact a Boston Criminal Lawyer or call 617-325-9500.
For emergencies and/or immediate assistance, click here to e-mail a Brockton Criminal Lawyer today.