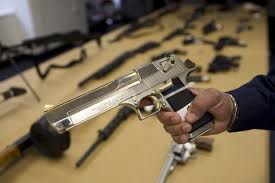 Ashawda Nelson, 19, and Noccokawon Pledger-Grant, 21, both of Dorchester, were arrested this past week on Massachusetts Gun Charges following a 'shots fired' report. Both men where charged with Unlawful Possession of a Firearm, Unlawful Possession of Ammunition, Carrying a Loaded Firearm, and Discharging a Firearm with 500 feet of a Dwelling.
According to the Boston Police Department, officers responded to the area of Auckland Street in Dorchester on a report of shots having been fired. The two men were reportedly observed running in the direction of the Savin Hill MBTA Station when they were apprehended. During a search of one of the men, a firearm was allegedly recovered on his person.
Despite that a gun was reportedly seized from one of the men, this strength of the prosecutions case against these men will rise and fall on whether the officers had sufficient probable to immediately arrest these men. In similar types of cases, the police will inevitably rely on witness reports and the purported identification of the men. In circumstances where the description of the purported suspects is in question, the defense may have ample grounds to challenge the constitutionality of their arrest by litigating a Motion to Suppress Evidence.
In Search and Seizure cases where the constitutionality of the seizure and arrest of the person is successfully challenged, the evidence seized, in this case the firearm and ammunition, will be deemed 'suppressed' or inadmissible. If that were to happen in this case, the prosecution would presumably have no evidence against them and would be unable to move forward in its prosecution against them.
Boston Criminal Lawyer Lefteris K. Travayiakis has experience in defending persons against Massachusetts Gun Crimes Charges, and is available 24/7 for consultation.
To schedule a Free Consultation, Click Here to Contact a Boston Gun Crimes Lawyer or call 617-325-9500.
Attorney Lefteris K. Travayiakis may also be reached at lefteris@travayiakis.com.