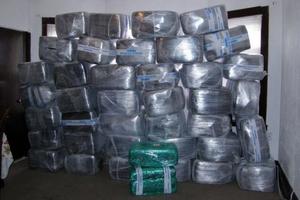 Executing a Search Warrant this past week, the Boston Police Department netted the seizure of almost 1 ton of marijuana, divided into 40 bales, from a Dorchester, Massachusetts apartment, resulting in Edgar Gonzalez being arraigned on Trafficking charges. Call it a stroke of luck, however…
The Boston Police, along with the Massachusetts State Police and FBI, were executing the Search Warrant a three-decker apartment on Wilcock Street. The marijuana, however, was actually located in an apartment above them that was not a target. When the police arrived on scene, however, Edgar Gonzalez was allegedly seen leaving the building. The police pursued and purportedly tied him to the upstairs apartment whose door was left open.
As a result, the Boston Police relied upon an immigration detainment order by the U.S. Customs and Immigration Enforcement, and in conjunction with his 'behavior in trying to flee', executed a "protective sweep" of the apartment. Within the apartment, Boston Police seized 40 bales of marijuana wrapped in plastic, including scales, a vacuum sealer and shrink wrap.
It is reported, however, that within the apartment, the Boston Police also located paperwork in the names of other men, which could be critical if Gonzalez takes this case to trial. Without any further evidence linking the drugs to Gonzalez, even if it is confirmed that he resided in that apartment, Suffolk County prosecutors will have a battle securing a conviction. Mere Presence of drugs, without more, even if the person knows it is there, is not proof beyond reasonable doubt to convict someone of Trafficking.
Gonzalez was arraigned this past Thursday in the Dorchester Division of the Boston Municipal Court with Trafficking over 2,000 pounds of Marijuana, which carries a minimum-mandatory sentence of 5 to 15 years in state prison. He was held pending trial on $1 million cash bail.
Boston Criminal Lawyer Lefteris K. Travayiakis has extensive experience in defending persons accused of Trafficking and other related Drug Crimes, including challenging the propriety of Search Warrants.
To schedule a Free Consultation to discuss your criminal case with a boston criminal lawyer who can help protect your legal rights, Contact Us Online or call 617-325-9500.