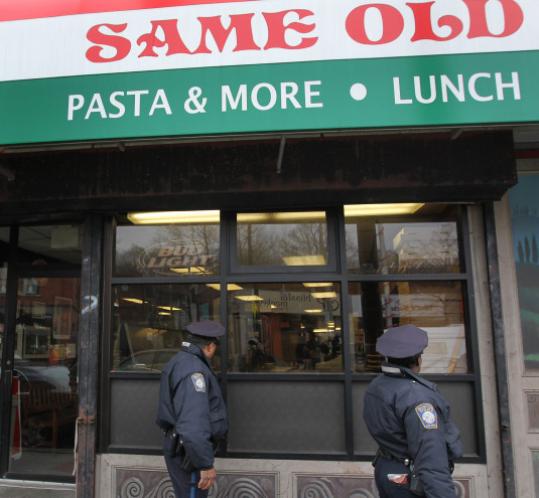 This past Sunday, three young men were Murdered as a result of the gun and knife fight inside the Same Old Place Pizza shop in Boston's Jamaica Plain neighborhood. Boston Police now believe that the incident was gang-related.
According to the Boston Police Department and witnesses on scene, shots were fired at around 7:30 on Sunday. An altercation that initially began with fists, led to a knife being drawn and then a gun. When Boston Police Officers responded on scene, one 21 year old man was found suffering from stab wounds; another 21 year old man and a 28 year old man both were found to have been shot. All three men were transported to Boston hospitals where they eventually succumbed to their wounds.
A fourth vicitm, a female pedestrian who happened to be in the area at the time shots were fired, was struck in the leg. She was taken to the hospital with non-life-threatening injuries where she was treated and released.
At least two of the shooting victims have been identified: one as Ariel Dume, 20, of Dorchester; the other as Johnell Cruz, of Jamaica Plain. A Boston Police spokeswoman revealed today that all three of the victims that were killed in this incident were all 'associated' in some way with gang activity.
To this date in 2010, Boston Police have recorded 70 homicides in the city, compared to only 45 by this time in 2009.
Boston Criminal Lawyer Lefteris K. Travayiakis defends those charges with major felony crimes in Massachusetts, including Murder, Gun / Firearms Charges, and all Crimes of Violence.
To schedule a Free Consultation with a Boston Criminal Lawyer, Contact Us Online or call 617-325-9500.