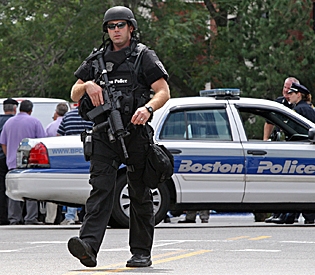 Randy Moore, 54, was arraigned this morning in Brighton District Court on Massachusetts Murder Charges following the shooting of his 76 year old neighbor and standoff with Boston Police. Moore was charged with First Degree Murder and Armed Assault with Intent to Murder.
According to the Suffolk County District Attorney's Office, Randy Moore allegedly shot his 76 year old neighbor at 10:30 yesterday morning at the John J. Carroll Housing Development in Brighton where the two men lived. When Boston Police responded to the scene, Moore had reportedly barricaded himself in the building. He eventually surrendered, but not before allegedly also firing shots at responding Boston Police Officers and EMT's who were on scene.
At this time, Boston Police have not revealed any apparent motive for the shooting, and are unclear if Randy Moore even knew the victim.
According to the Boston Housing Authority which oversees the John J. Carroll Housing Development, Randy Moore had reportedly been diagnosed as a schizophrenic and had lived in the housing under as a disabled resident for several years. Boston Police also reported that, notwithstanding any mental health issues Moore may have suffered from, that he was legally licensed to possess firearms.
Boston Criminal Lawyer Lefteris K. Travayiakis is available 24/7 for consultation on all Massachusetts Crimes of Violence Charges, including Murder and Gun Crimes Charges.
To schedule a Free Consultation, Click Here to Contact a Boston Criminal Lawyer or call 617-325-9500.
Attorney Lefteris K. Travayiakis may also be reached at lefteris@travayiakis.com.