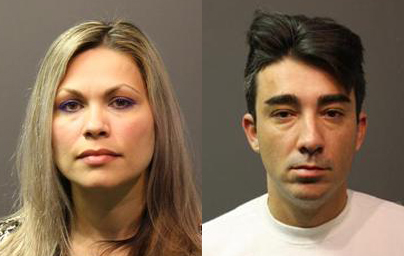 A couple was arrested Thursday afternoon on Massachusetts Theft Crimes Charges for allegedly convincing an elderly Braintree woman to let them into her home and then robbing her of cash and jewelry.
George DeMetro and Dina Miller, have been charged with Breaking & Entering in the Daytime and Receiving Stolen Property, and were arraigned this morning in Quincy District Court.
According to police, DeMetro and Miller, who are from North Carolina, allegedly claimed they were from a Massachusetts regulatory agency there to check on the electrical wiring on the elderly woman's home. Miller then allegedly convinced the woman to come with him and check a shed in the backyard, while DeMetro gained entry into the home.
The woman's husband, who was home at the time, reportedly yelled out to his wife, who was outside, that a man was upstairs in the bedroom. DeMetro allegedly told the couple he was simply checking the water in the bathroom. He then made his way downstairs at which time DeMetro and Miller left the home.
Police responded to the home and the couple reported the Theft Crimes, as they located DeMetro and Miller at a D'Angelo's in Braintree.
A search of the couple's truck revealed $60,000 in cash, jewelry, silverware and other valuable items had been taken, and Braintree Police believe the couple had allegedly targeted other elderly couples in similar Theft Crimes in Braintree, Massachusetts.
Boston Criminal Lawyer Lefteris K. Travayiakis has extensive experience in defending Massachusetts Theft Crimes Charges, and is available 24/7 for consultation.
To schedule a Free Consultation, Click Here to Contact a Boston Theft Crimes Lawyer or call 617-325-9500.