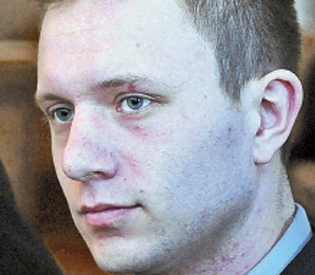 Patrick Fay, 24, of Holbrook, was arrested and faces Massachusetts DUI / Drunk Driving Charges after he allegedly left the scene of an I-93 rollover in Dorchester that left his girlfriend in critical condition on Sunday night.
Fay was arraigned this morning in the Dorchester Division of the Boston Municipal Court and charged with Operating a Motor Vehicle While Under the Influence of Alcohol, Negligent Operation of a Motor Vehicle, and Leaving the Scene of an Accident with Personal Injury.
According to Massachusetts State Police and the Suffolk County District Attorney's Office, Patrick Fay was allegedly driving on I-93 in Dorchester when he hit a snow bank around 1:00 a.m.. The car flipped over, and Fay's girlfriend, Alyssa Connolly, was reportedly not wearing her seatbelt and was ejected from the car.
When Massachusetts State Police Officers responded to the area, Fay allegedly began to run but was chased down and arrested.
Although prosecutors allege that Fay "showed signs of intoxication," there is no indication whether he was asked to perform any Field Sobriety Tests or was asked to submit to a Breathalyzer Test.
Boston Criminal Lawyer Lefteris K. Travayiakis has experience in defending Massachusetts Drunk Driving / DUI Charges and is available 24/7 for consultation.
To schedule a Free Consultation with a Boston DUI Lawyer, Click Here to Contact Us Online or call 617-325-9500.