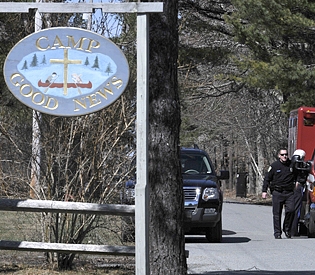 Charles "Chuck" R. Devita, a camp counselor at Camp Good News on Cape Cod, Massachusetts, reportedly committed suicide because of his being suspected of committing various Massachusetts Sex Crimes. Devita was found dead from what is reported to be a self-inflicted gunshot wound.
Devita was recently identified as a suspect for allegedly committing various Massachusetts Sex Crimes against a child at the camp several years ago. The unidentified victim had reportedly accused Charles Devita of repeatedly sexually assaulting and molesting him in 1985 when he attended Camp Good News.
Camp Good News on Cape Cod, Massachusetts, is the same camp where United States Senator Scott Brown went to as a boy and revealed that he was also abused. Senator Brown has declined to pursue any prosecution of his alleged molester, and would not confirm nor deny whether the Charles Devita is the same individual who allegedly molested him as a youngster.
Following news of Charles Devita having been identified as allegedly committing Sex Crimes in Massachusetts, three other people have also reportedly come forward, alleging they were also sexually assaulted at the camp. Two of those victims have identified Devita as the alleged molester, while the third individual has reportedly identified another Camp Good News Counselor.
Boston Sex Crimes Lawyer Lefteris K. Travayiakis is available 24/7 for consultation on Massachusetts Sex Crimes, whether defense of sex crimes charges or civil actions on behalf of victims of sexual assaults.
To schedule a Free Consultation, Click Here to Consult with a Boston Sex Crimes Lawyer or call 617-325-9500.