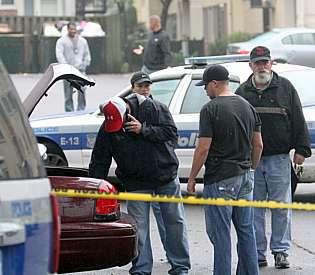 Tyre Wade, 19, was arrested this past week and charged with Massachusetts Gun Crimes Charges for allegedly carrying and shooting at Boston Police Officers. He was charged with Assault & Battery with a Dangerous Weapon, Unlawful Possession of a Firearm, and Unlawful Possession of Ammunition.
According to the Boston Police Department, officers were in Roxbury this past week looking for what they described as "gang members known to have outstanding warrants." At a residence on Slayton Way, police came across several individuals, who allegedly fled upon the arrival of police officers.
One of the men, Tyre Wade, allegedly reached into his waist and pulled out a gun, which then discharged. He was eventually taken in custody and was subsequently arraigned in the Roxbury Division of the Boston Municipal Court on Gun Charges.
What is unclear is whether Tyre Wade was one of the men believed to have an outstanding default warrant. If not, then Tyre Wade may have have a viable defense in his case in challenging his Search & Seizure.
Boston Criminal Lawyer Lefteris K. Travayiakis is available 24/7 for consultation on all Massachusetts Gun Crimes, including Unlawful Possession of a Firearm.
To schedule a Free Consultation, Click Here to Contact a Massachusetts Gun Crimes Lawyer or call 617-325-9500.
Attorney Lefteris K. Travayiakis may also be reached at lefteris@travayiakis.com.