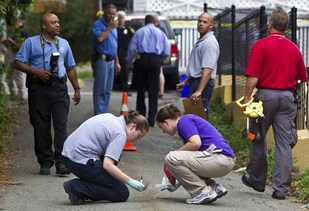 Carol Lynn Kingsley, 33, was fatally shot this morning by a Somerville Police Officer after she allegedly slashed him, and two other officers, with a knife.
Somerville Police Officers responded to Kingsley's apartment in Somerville at 6:30 a.m. this morning to investigate a report that she attacked her boyfriend and set fire to his clothing. When the police officers attempted to question her, she brandished a knife and attacked the three Somerville Officers. Kingsley managed to slash one officer in his back, shoulder and arm; a second officer was stabbed in the back and arm; and the third officer was cut on his hand. Thereafter, one of the Somerville Police Officers fatally shot Kingsley. She was pronounced dead at the scene.
Several hours prior to the incident, at 3:00 a.m., Somerville Police Officers had responded to the same apartment to investigate a 911 call from a neighbor who heard shouting coming from Kingsley's apartment. After that first call, the boyfriend reportedly took Kingsley to the hospital for a psychiatric evaluation, but it is unclear whether she was ever admitted.
Boston Criminal Lawyer Lefteris K. Travayiakis is an experienced criminal defense lawyer available 24/7 to represent persons charged with all misdemeanor and major felony crimes, including Murder and other Crimes of Violence.
To schedule a Free Consultation with a Boston Criminal Lawyer and to discuss your criminal case, Contact Us Online or call 617-325-9500.
For emergencies and/or immediate assistance with your criminal case, click here to e-mail Attorney Lefteris K. Travayiakis directly.