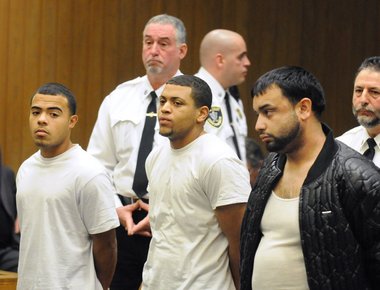 Massachusetts State Police have arrested four Springfield teenagers in connection with the November 30, 2010, Murder of Reality Shabazz Walker.
The four men, Ramos Diaz, 19, Armondo Olivares, 17, and Lionel Lopez, 18,, all of Springfield, as well as Javier Nieves, 18, of Boston, have all been charged with FIrst Degree Murder.
Diaz and Olivares were both arrested yesterday on arrest warrants by Springfield Police officers, while Javier Nieves walked into Springfield District Court when he learned that there was an outstanding warrant for his arrest. Lionel Lopez, meanwhile, was already in custody in connection with the Massachusetts Murder of Jose Colon.
According to the Springfield Police Department, Reality Shabazz Walker, who at the time was studying to become a medical assistant, was shot and killed on November 30 outside of the John L. Sullivan Housing Complex in Springfield. He succumbed to injuries from a single gunshot would to the back.
At this time, Springfield Police have not disclosed any motive for why Walker was murdered.
The arrests of the four teenagers in connection to the Walker murder come just days after the arrest of another teen, Gregory Falero, 17, who was arrested on Massachusetts Murder Charges for the death of Kevin Gomez, 16, this past weekend.
Kevin Gomez, a freshman at Chicopee Comprehensive High School, was attending a birthday party when he was shot and killed early Sunday morning.
Gregory Falero has been charged with First Degree Murder, Unlawful Possession of a Firearm and Unlawful Possession of Ammunition.
Boston Criminal Defense Attorney Lefteris K. Travayiakis is available 24/7 for consultation on all Massachusetts Crimes of Violence, as well as all Major Felony Crimes.
To schedule a Free Consultation, Click Here to Contact a Boston Criminal Lawyer or call 617-325-9500.