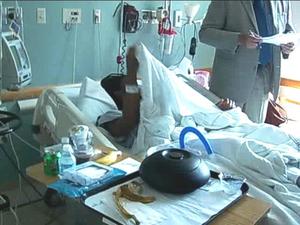 Orlando Harrington Kavanaugh, of Boston, was arraigned on Massachusetts Murder Charges in connection with an Armed Home Invasion in Rockland that resulted in the shooting death of Tina Gonsalves.
Kavanaugh was arraigned yesterday from his hospital bed on charges including First Degree Murder; Armed Home Invasion; Armed Assault with Intent to Murder; and Gun Crimes Charges including Unlawful Possession of a Firearm and Carrying a Loaded Firearm.
According to the District Attorney's Office, Kavanaugh, 28, allegedly broke into the Rockland apartment at 50 Concord Street at shortly after 7:30 a.m. by breaking the glass window in the door and reaching into to unlock it. Once inside, prosecutors allege that Kavanaugh pushed Tina Gonsalves into the back of the apartment.
During the struggle, Kavanaugh allegedly shot at Gonsalves' son, but missed; he also then allegedly shot Tina Gonsalves in the abdomen. Gonsalves' son, however, then shot Kavanaugh as he was leaving the apartment, striking him in the left shoulder. Kavanaugh reportedly got into a truck that was allegedly waiting for him outside.
According to the police, a witness who was outside the apartment was able to identity Kavanaugh as the person with the gun. Gonsalves' son, however, was unable to identity him, as Kavanaugh was allegedly wearing a hooded sweatshirt during the incident.
After Orlando Kavanaugh was dropped off at the emergency room at the hospital to be treated for his gunshot wound, police obtained the surveillance video of the hospital and were reportedly able to identify the truck. The truck was reportedly registered to Tyrell Nichols, whose phone records allegedly revealed evidence of a scheme to rob a house.
At this time, it is not known whether Tyrell Nichols will also be charged. Theoretically, the prosecutors could try charging him with First Degree Murder and Armed Home Invasion as well under the theory that he aided and abetted Kavanaugh. He could also be charged as an Accessory Before the Fact or Accessory After the Fact.
Boston Criminal Lawyer Lefteris K. Travayiakis is avaialable 24/7 for consultation on all Massachusetts Crimes of Violence, including Murder, Home Invasion, and Gun Crimes Charges.
To schedule a Free Consultation, Click Here to Contact a Boston Murder Lawyer or call 617-325-9500.