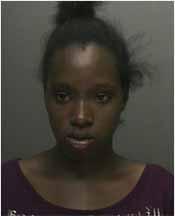 Erica Ryan was arrested yesterday on Massachusetts Violent Crimes Charges after she allegedly punched her two year old son on an MBTA bus. She was arraigned this morning in the Roxbury Division of the Boston Municipal Court on the charge of Aggravated Assault & Battery.
According to MBTA Police and the Suffolk County District Attorney's Office, Erica Ryan was on an MBTA in Roxbury with her 2 year old son yesterday afternoon. After the child refused to eat what Ryan was attempting to feed him, Ryan allegedly punched the child in the mouth with a closed fist. Witnesses on the bus described Ryan as allegedly winding up and punching the child in the face with full force, causing the child's head to snap back into the stroller. Police officers who arrived on scene reportedly observed dried blood on the child's mouth.
After the alleged assault, Erica Ryan reportedly tried to get off the bus with the baby, but was confronted by other passenger who had witnesses the incident. The bus driver called the police and the other passengers held Ryan at bay until the police arrived. Suffolk County prosecutors represented that the incident was recorded on the bus' surveillance system.
Following Erica Ryan's arraignment in Roxbury District Court, she was held on $500 bail.
Boston Criminal Lawyer Lefteris K. Travayiakis is available 24/7 for consultation on all Massachusetts Crimes of Violence Charges, including Assault & Battery and Assault & Battery with a Dangerous Weapon.
To schedule a Free Consultation, Click Here to Contact a Boston Criminal Lawyer or call 617-325-9500.
Attorney Lefteris K. Travayiakis may also be reached at lefteris@travayiakis.com.