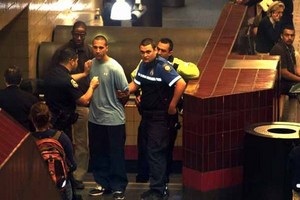 Robert J. Carney, 34, of Everett, Massachusetts, was arrested this morning on the MBTA's Red Line after robbing the Citizens Bank branch at Harvard Square. Identified by other passengers on the train after observing him with red dye on his hands, the MBTA returned the train to the station at the request of the Cambridge Police Department, where Carney was arrested.
The Cambridge Police report that Carney walked into the Citizens Bank in Cambridge on Kennedy Street and passed a note to the teller demanding cash. After handing the money over to Carney, he then fled on foot towards the nearby Harvard Square Red Line Stations. It's at this point when the dye pack in the bag given to him by the bank teller exploded. Carney, however, continued through the station and boarded an inbound train to Boston.
Carney is currently held over the weekend by the Cambridge Police Department on bail, and scheduled to be arraigned on Monday, May 10, 2010, on charges including Bank Robbery.
Boston Criminal Lawyer Lefteris K. Travayiakis has extensive experience in defending persons accused of the crime of Robbery, including Armed Robbery, Unarmed Robbery and other Theft Crimes and Crimes of Violence.
To schedule a Free Consultation with Attorney Lefteris K. Travayiakis and to discuss your criminal case, Contact Us Online or call 617-325-9500.
Click here to read more in the Cambridge Bank Robbery, as reported by John R. Ellement, Boston Globe Staff.