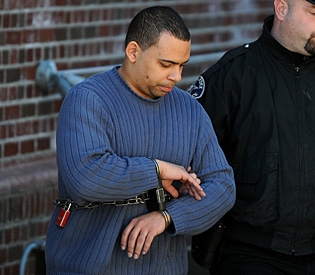 Geoffrey Wilson, 31 of Malden, Massachusetts, was arraigned yesterday in Malden District Court on murder charges for killing his 6 month old son, Nathan Wilson. A the time of this writing, the Middlesex County District Attorney's Office had not yet determined the cause and manner of death, citing that the matter is still under investigation.
The boy's father, who works at Massachusetts Institute of Technology's Media Lab as an administrative assistance, allegedly told police that the baby became cranky and he picked him up over his head and shook him, trying to simulate the motion of a moving car to calm the child. The Middlesex County D.A.'s Office, however, have said that preliminary reports suggest the infant child suffered "non-accidental injuries and trauma."
The prosecuting attorney further informed the judge at Wilson's arraignment that the baby had signs of bruising on his forehead, chin and cheek, and that it appeared that the baby was subjected to extreme violent shaking causing a retinal hemorrhage. Although an autopsy has not yet been completed, it is believed that the child succumbed to his injuries as a result of "Shaken Baby Syndrome."
Shaken Baby Syndrome occurs when an infant or small child is shaken violently, causing a whiplash-type motion. The violent shaking can cause severe brain damage and even death. There are approximately 1,200 to 1,600 cases of Shaken Baby Syndrome in the United States per year.
Boston Criminal Lawyer Lefteris K. Travayiakis' Thoughts:
The murder charge against Geoffrey Wilson does not represent what many people might perceive as the typical murder case, or rather, the typical criminal defendant. At his arraignment, he appears to have had the strong support of his wife and family, and Wilson reportedly does not have any criminal history. By all appearances, Geoffrey Wilson seemed to have had it all: a stable job, a nice home, and a growing family. That Wilson's wife and family stood by him at his arraignment speaks volumes as to signs of any history of violence or unstable family life. One would assume, had she not been there in support of him, that would have been a tell-tale sign that there might have been some indication of recent domestic issues.
When this murder case goes to trial, I would be very interested to see the autopsy results of the Massachusetts Chief Medical Examiner's Office and what medical theory the prosecution will advance at trial. If, in fact, the Middlesex County District Attorney's does pursue a theory of Shaken Baby Syndrome in its prosecution, this trial will quickly become a trial of the experts, prosecution vs. defense. In those types of cases, usually the lawyer with the best expert wins.
I would also imagine that Geoffrey Wilson's criminal defense team will probably focus their defense on challenging the amount of force required to produce the brain damage necessary for Shaken Baby Syndrome. Other defense issues at trial might also include the child's medical history or any pre-existing conditions, as well as other possible causes of Shaken Baby Syndrome, such as Vitamin C deficiency or gestational problems.
If you have been arrested or have come under investigation for a criminal offense, you should speak with an experienced criminal defense lawyer immediately. Massachusetts Criminal Defense Attorney Lefteris K. Travayiakis is available 24/7 and will personally meet with you to discuss your case and evaluate your options.
To schedule a Free Consultation with a Boston Criminal Defense Lawyer, e-mail Attorney Lefteris K. Travayiakis or call him directly at 617-325-9500.

Read more on this story by Laura Crimaldi and Edward Mason, Boston Herald.