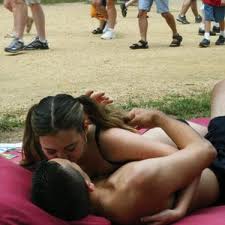 A young couple was arrested in Roxbury early yesterday morning on Massachusetts Sex Crimes charges for having sex in public. Both persons, 28, were each charged with Open & Gross Lewdness and Lascivious Behavior.
According to the Boston Police Department, officers received complaints at 8:45 a.m. yesterday Thursday morning that a couple was having sex at the Clifford Playground in Roxbury, Massachusetts. The witnesses who reported the incident to the police indicated that the couple was "making no effort to conceal their activities from the view of rush hour traffic."
When Boston Police Officers responded to the Roxbury park, they allegedly observed the couple partially clothed and still engaged in activity of a sexual nature. Upon the sight of the arriving police officers, both persons allegedly frantically began to tidy up their clothing.
Open & Gross Lewdness and Lascivious Behavior:
The Massachusetts Sex Crime of Open & Gross Lewdness and Lascivious Behavior is the intentional and public open exposure of a person's genitals or buttocks that produces shock to at least one or more persons.
Additionally, persons charged with the sex crime of Open & Gross Lewdness could be subjected to Registration with the Massachusetts Sex Offender Registry Board if convicted of a second or subsequent offense.
Boston Criminal Lawyer Lefteris K. Travayiakis is available 24/7 for consultation on all Massachusetts Sex Crimes, including Open & Gross Lewdness, Rape, and Indecent Assault & Battery.
To schedule a Free Consultation, Click Here to Contact a Boston Sex Crimes Lawyer or call 617-325-9500.