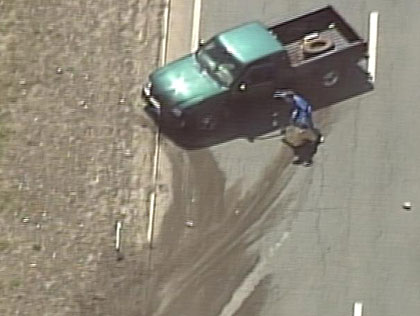 William P. Monopoli, of Boston, was arrested by Massachusetts State Police on Armed Robbery warrants following a high-speed chase that ended in West Bridgewater.
According to the Massachusetts State Police, William P. Monopoli was wanted for allegedly violation his probation. Massachusetts State Troopers reportedly tried pulling him over but he allegedly refused, leading them to Route 106 in West Bridgewater where the pursuit allegedly ended when Monopoli crashed.
He is expected to be arraigned in the Dorchester Division of the Boston Municipal Court Monday morning on several criminal charges, including Assault with a Dangerous Weapon, Refusing to Stop for Police, Leaving the Scene of Property Damage, and Negligent Operation of a Motor Vehicle.
Monopoli was also under criminal investigation with regards to a Concord crash where he allegedly fled the scene after a multi-car accident on April 10. With regards to that incident, William Monopoli is expected to be charged with several Motor Vehicle Charges, including Leaving the Scene of An Accident with Personal Injury and Negligent Operation of a Motor Vehicle.
Boston Criminal Lawyer Lefteris K. Travayiakis is has extensive experience in defending all Massachusetts Misdemeanor and Felony Crimes, including Motor Vehicle Charges and Crimes of Violence, and is available 24/7 for consultation.
To schedule a Free Consultation, Click Here to Contact a Boston Criminal Lawyer or call 617-325-9500.