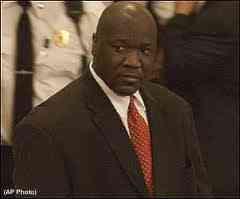 The Massachusetts Supreme Judicial Court recently decided and rejected Christopher McCowen's appeal of his conviction for the Murder of Christa Worthington in 2002. In a unanimous decision, Massachusetts' highest court unanimously ruled that the defendant's appeal was without merit and found "no basis on which to reduce the degree of guilt or order a new trial."
Christopher McCowen, of Hyannis, Massachusetts, was convicted of the Rape and Murder of Christa Worthington in 2002 in her home in Truro on Cape Cod. McCowen was found by a jury to have first raped and then stabbed her. Worthington was found in her home as her 2.5 year old daughter was against her mother's lifeless body. The daughter was unharmed.
Despite McCowen having lost his appeal, the decision did raise some concerns, particularly with racial issues that were made public shortly after the trial, raising the concern of racial bias during jury deliberations. Specifically, after the conviction, it was revealed that, during jury deliberations, for example, one white female juror referred to McCowen as "a big black man" who had been trying to intimidate her by staring at her in the courtroom. She also stated that bruises like those found on the victim's body would result when "a big black man beats up on a small woman" These statements obviously offended fellow jurors, and in particular, a black female juror, which led to a confrontation within the jury room. As a result of these and other allegations of racial impropriety having occurred during jury deliberations, the trial judge held a 2-day hearing a year after McCowen's conviction in 2006.
Article 12 of the Massachusetts Declaration of Rights and the Sixth Amendment to the United States Constitution guarantees the right of a criminal defendant to a trial by a fair and impartial jury. Therefore, once a defendant files an affidavit from a juror who alleges that one or more jurors made statements that reasonably demonstrate racial or ethnic bias, and the credibility of the affidavit is in issue, the trial should should conduct a hearing to determine the truth or falsity of the affidavit's allegations.
That is what was done in McCowen's case with all the jurors over 2 days. Writing for the majority of the Massachusetts Supreme Court, the Justice Ireland did not disagree with the trial judge's decision to hold such a hearing, but did state that he would have interviewed jurors more thoroughly. He elaborated that further questioning "would have given context and insight into whether" the comments and issues raised during jury deliberations were "simply small talk or indicative of implicit bias."
Notwithstanding the severe racial issues raised, the trial judge found that the juror who made those statements "did not hold actual racial bias" and concluded that the black female juror's response served the purpose of "blunting the effect" of the racial stereotype and of warning the jury of the risk of racial stereotypes infecting their deliberations.
…so in other words, there were racial issues that were of concern to the court during jury deliberations, but they did not rise to the level necessary to warrant "actual" racial bias? …I respectfully disagree with the court's decision. McCowen should have gotten a new trial…
Attorney Lefteris K. Travayiakis is an experienced criminal defense attorney available 24/7 to represent those charged with all major felony crimes or Crimes of Violence, including Murder and Rape, and can also assist your Criminal Appeal in challenging your conviction.
To schedule a Free Consultation with a Boston Violent Crimes Lawyer, Contact Us Online or call 617-325-9500.