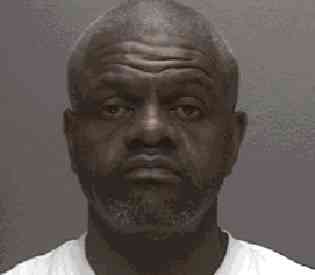 Donnie McLean, 46, was arrested last Friday for Sex Crimes after he allegedly began fondling himself on a Route 28 bus headed towards Ruggles Station at Northeastern University in Boston.
McLean, who is also a Level 3 Sex Offender, was arrested and charged with Open & Gross Lewdness.
According to the MBTA Police, McLean allegedly initially evaded paying his fare for the bus by going in through the rear doors at Dudley Station. He then sat in the back near a young female and, according to the victim, began touching himself very inappropriately.
As the woman caught on to what McLean was allegedly doing, the woman got up and moved closer to the front of the bus, but McLean followed her and actually sat down next to her. He then continued to fondle himself.
After the incident was reported by the woman and when Northeaster University and MBTA Police detained McLean, they allegedly observed that his pants were unzipped.
Following McLean's arraignment for Open & Gross Lewdness last Friday, McLean was brought back into court earlier this week and appeared before a Judge. He was ordered to submit to an alcohol treatment abuse evaluation at the Massachusetts Alcohol and Substance Abuse Center.
MBTA Sex Crimes On The Rise:
According the MBTA Transit Police, McLean's arrest is the 35th so far this year for Open & Gross Lewdness, almost double the arrest for the same period from last year (19). According to the MBTA Deputy Transit Chief, the rise in arrest for Sex Crimes is likely more attributable to people coming forward and reporting the crimes, rather than an actual rise in incidents.
Sex Offender Registration for Open & Gross Lewdness:
A conviction for the sex crime of Open & Gross Lewdness may not only subject the person to a state prison commitment for up to 3 years, but a second or subsequent offense will also subject the person to registration with the Sex Offender Registry Board.
Once a conviction triggers registration, what generally happens once the person is advised of his obligation to register is that the person has 2 days to register if on probation or after their release from custody.
After an offender initially registers with the Sex Offender Registry Board, a letter is sent advising the person to submit evidence regarding the dangerousness and risk of re-offense. After review of the charges and the person's records and any other evidence, the Sex Offender Board will assign a preliminary classification level to the offender (1, 2 or 3) and inform them if they are required to register and at which level.
Attorney Lefteris K. Travayiakis is an experienced criminal defense attorney available 24/7 to defend against all major felony crimes, including Sex Crimes such as Rape, Indecent Assault & Battery, Sex Offender Registration, Open & Gross Lewdness, Indecent Exposure and Lewd,Wanton and Lascivious Conduct.
To schedule a Free Consultation with a Boston Sex Crimes Lawyer, Contact Us Online or call 617-325-9500.