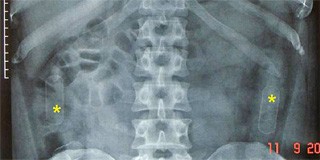 Luisa Gill, 21, was arrested by Massachusetts State Police and Federal Immigration and Customs Enforcement Officials on Massachusetts Drug Crimes Charges after she was allegedly found to have swallowed 50 pellets of cocaine.
Following her arraignment this morning in the East Boston Division of the Boston Municipal Court for on drug charges of Trafficking in Cocaine Over 200 grams, Gill was held on $200,000 cash bail.
Gill was reported to have swallowed the 50 cocaine pellets prior to boarding a Jet Blue flight from the Dominican Republic to Boston. Upon her arrival in Boston, law enforcement questioned Gill about her short trip, during which she began to "behave suspiciously." She continued to be questioned before allegedly admitting that she had swallowed almost 1 pound of cocaine.
State Police officers transported Luisa Gill to Massachusetts General Hospital where she was given a laxative to expedite the removal of the cocaine from her system. The cocaine pills were discovered to have been compressed into tiny air-tight packages. Massachusetts State Police report that the 'street value' of the cocaine seized from Gill's stomach was in the area of approximately $50,000.
In cases such as these, where alleged drug smugglers ingest packets of cocaine, the persons run the risk of suffering from acute cocaine poisoning should any of the packets fail while in the person's stomach.
Boston Criminal Lawyer Lefteris K. Travayiakis has extensive experience in defending Massachusetts Drug Crimes, including Drug Trafficking Charges, and is available 24/7 for consultation.

To schedule a Free Consultation, Click Here to Contact a Boston Drug Crimes Lawyer or call 617-325-9500.