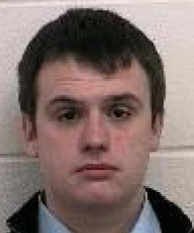 Quinlan Junta, 21, and Jason Molle, 20, were both arraigned this morning in Woburn District Court on several Massachusetts Violent Crimes Charges in connection with the robbery of a Reading apartment this past Monday.
Both Junta and Molle were charged with Home Invasion, Armed Robbery, Assault & Battery with a Dangerous Weapon, and Conspiracy.
According to the Middlesex County District Attorney's Office, Junta and Molle allegedly broke their way into the Reading apartment and forced a man to undress and then lie on the floor; and then they allegedly beat and robbed him.
Both Quinlan Junta and Jason Molle were held without bail pending a Dangerousness Hearing, which is scheduled for later this week in Woburn District Court. In order to detain a defendant, without bail and pending the outcome of the criminal case, a hearing is held for a Judge to decide whether 'no conditions of release will reasonably assure the safety of any other person or the community.'
If the name 'Junta' sounds familiar, Quinlan Junta is the son of Thomas Junta who, was convicted of the deadly beating of another man at their sons' hockey practice in 2000. Thomas Junta was convicted of Manslaughter and served 8 years in state prison – he was released this past August.
Boston Criminal Lawyer Lefteris K. Travayiakis has extensive experience in defending persons accused of Massachusetts Crimes of Violence and Gun Crimes Charges, and is available 24/7 for consultation.
To schedule a Free Consultation, Click Here to Contact a Boston Violent Crimes Lawyer or call 617-325-9500.