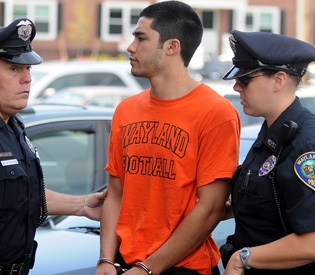 Nathaniel Fujita was arrested and has been charged in connection with the Murder of Lauren Astley, the Wayland teenager whose body was found in a wooded marsh area along Route 27 near a Wayland beach.
Fujita was arraigned this morning in Framingham District Court on 1st Degree Murder Charges. Following his arraignment, he was held without bail.
According to the Middlesex County District Attorney's Office, Lauren Astley's car was found parked at the Wayland beach after she was reported missing late Sunday night. She was last seen leaving work at the Natick Collection at 6:30 that night. Yesterday morning, however, Lauren Astley's body was discovered by a man along Route 27, partially submerged in a marsh.
Police, in the meantime, had obtained a search warrant for the home of Nathaniel Fujita, in which they allegedly discovered "significant blood" and a bungee cord that police believe Fujita allegedly wrapped around her neck – which reportedly had a gaping and significant wound. Nathaniel Fujita had reportedly been involved in a 3 year relationship with Lauren Astley that recently ended.
At this time, it is unclear what led police to investigate Nathaniel Fujita, or how they otherwise were able to justify the probable cause needed for their obtaining a search warrant for his home.
The United States Constitution and the Massachusetts Declaration of Rights presumes all persons are presumed innocent.
Boston Criminal Lawyer Lefteris K. Travayiakis has extensive experience in defending Massachusetts Crimes of Violence, and is available 24/7 for consultation on all major felony crimes, including Murder.
To schedule a Free Consultation, Click Here to Contact a Boston Murder Lawyer or call 617-325-9500.