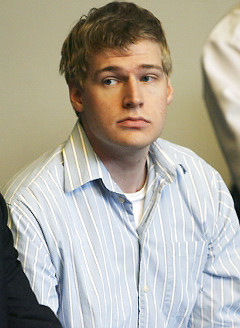 Phillip Markoff, the former Boston University medical student and accused Craigslist killer is scheduled to go on trial for the Murder of a 24 year-old masseuse in a Boston's Marriott Copley Place Hotel.
Markoff is alleged to have met the victim, Julissa Brisman, 25, through a Craigslist ad she placed advertising erotic services. The Boston Police and Suffolk County District Attorney's Office have accused Markoff of meeting with Brisman at the hotel, and crushing her skull with the butt of a handgun, and then shooting her three times in the chest. He then allegedly hid the murder weapon in a hollowed-out textbook in his apartment in Quincy, where he lived at the time.
The Boston Police report that, during an extensive search of his home, they also seized four pairs of women's panties hidden in his mattress box spring, as well as plastic ties they say are similar to those he allegedly used to bind his victims. In separate investigations involving other women, Markoff's fingerprints were also reportedly lifted from the duct tape he allegedly used to gag one of his victims.
Phillip Markoff is also accused of robbing another woman at Boston's Westin Hotel, as well as attacking a third woman in a Rhode Island Hotel.
Currently held without bail awaiting trial in Suffolk Superior Court, he has been charged with Murder, Kidnapping, Armed Assault with Intent to Rob, and Unlawful Possession of a Firearm.
Boston Criminal Lawyer Lefteris K. Travayiakis has extensive experience in defending persons accused of Crimes of Violence, and is available 24/7 to assist those accused of major felony crimes, including Murder, Kidnapping, Armed Assault to Rob, and Gun / Firearms Crimes.
To schedule a Free Consultation and to discuss your criminal case with a Boston Criminal Lawyer, Contact Us Online or call 617-325-9500.