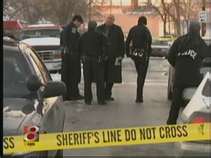 The Boston Police Department announced this weekend that they have arrested a man wanted on Massachusetts Violence Crimes Charges in connection with the shooting of 4 men outside a Boston nightclub on November 18, 2011.
Samuel Higginbottom, 23, fo Boston, was arrested this past Friday relative to this shooting, and is expected to be charged with 4 counts of Assault with Intent to Murder.
According to Boston Police, 4 men were shot outside the Venu club on Warrenton Street. All 4 men reportedly suffered non-life threatening injuries.