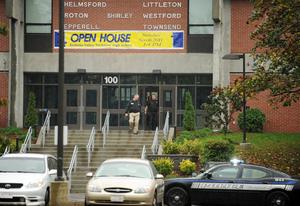 A Westford High School student was arrested by Westford Police after he allegedly brought a large pellet gun that resembled an assault rifle into school. He is scheduled to be arraigned today in Lowell Juvenile Court on Massachusetts Crimes of Violence Charges, including Assault & Battery with a Dangerous Weapon, Carrying a Dangerous Weapon on School Property; and Unlawful Possession of a BB Gun.
According to police, the teenager, a 16 year old sophomore student at Westford High School, walked into the high school and allegedly began pointing the weapon in the direction of students. He eventually made his way into the school cafeteria, that was filled at the time with about 150 high school students.
The incident involving the student, who was reportedly under suspension at the time, caused school officials to put the school in lockdown.