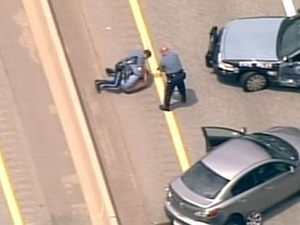 Early yesterday afternoon, Massachusetts State Police Officers initiated pursuit of Alejandro Serra for allegedly driving through downtown Boston and screaming out of his car, and then driving at a man and his grandson who asked him to turn down the music.
Serra, however, wouldn't stop for Massachusetts State Police Troopers, and led them on a high-speed chase on the Massachusetts Turnpike from Boston to Framingham. The chase only ended when Serra rammed his can into a Massachusetts State Police vehicle and spun out of control.
Alejandro Serra was arraigned this morning in the Boston Municipal Court on several charges including Assault & Battery with a Dangerous Weapon, Negligent Operation of a Motor Vehicle, and Failure to Stop for Police.